The long weekend came and went – however, this time I can say that I will remember my long weekend for many years to come!
As always I got caught by surprise when couple of days before the long weekend  someone said – "hey, what are you doing this long weekend". Oh? Long weekend!
I have decided that it is a perfect opportunity to skip town for one night. My riding buddy has had an incident couple of weeks back so his bike was still getting fixed – however, he couldn't resist so he rented a car and we headed off!
My plan was simple;
No technology – book to read and that's it. (not 100% as I did have a phone with me just in case)
No GPS – paper map only.
Go West of Sydney until I get bored, sore or tired then pull over at a local pub, catch up on some reading/beer and stay a night at the pub.
Here is what I ended up with (Google Maps Link)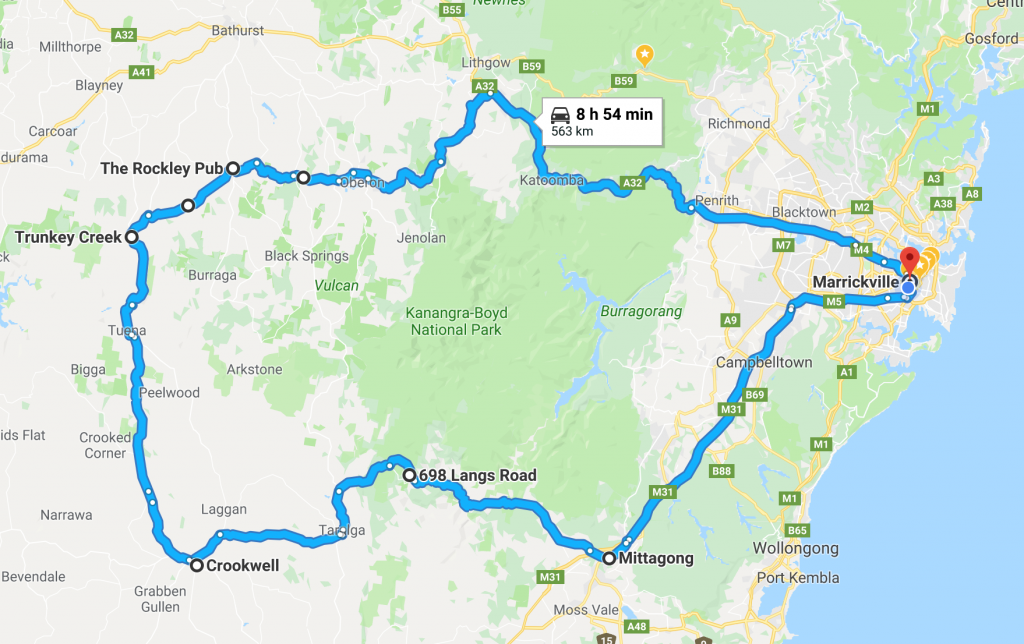 First part
Target destination was Rockley – not very famous however, a very pretty place away from busy city streets etc. I really wanted to stay there overnight however due to no planning the place was booked out – and for the right reasons – it is absolutely beautiful little town.
The trip there was pretty un-eventful – mostly motorways with traffic due to long weekend rush. We have opted in to go through Oberon as we have never seen the place. Great place to pull over and have a quick rest / refuel – please do refuel – otherwise you will be stressing like I was later on!
From Oberon we had 3 options to get to Rockley – a decision was made to go straight through. It also was the thinnest line on the map (normally a sign of un-used/unsealed road).
Our assumption was accurate – unsealed / uneven road going through some creeks – often get flooded. We only had to cross the water once – however I assume in rainy seasons you really need a 4×4 and proper adventure bike with high suspension. Amazing scenery and good work for the rider and the bike.
If you aren't happy with going a little bit off road/gravel then I would recommend going south through Black Springs.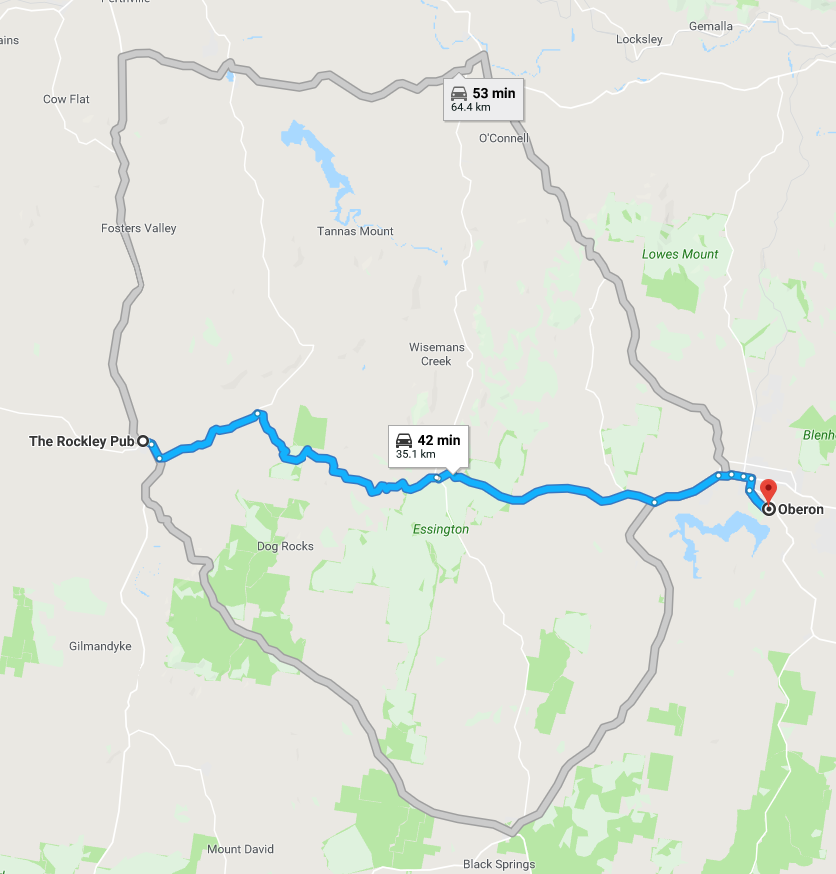 Overnight accommodation
As we couldn't stay at Rockley we had to keep on going. This is where you normally pulled out your Expedia/AirBnB or Hotels.com and find accommodation – easy!
However, we really wanted to stay at a local pub and not ride to Bathurst. This is what we have done – we jumped on Google Maps and typed in "pubs" – all of a sudden the map lighted up in little red dots. I know it is a little bit of a cheat considering our goal was not to use technology (will try harder next time!). Made couple of phone calls and soon enough we have arrived at our next destination – Trunkey Creek (Black Stump Hotel) at $70 per room per night (incl. breakfast!)
Once again we have opted in for the most direct (thinnest line) to the destination on our map.
Great ride – mostly unsealed – some great creeks and scenery on the way – however, if you keen to stay on sealed roads – go north and then south as per image below.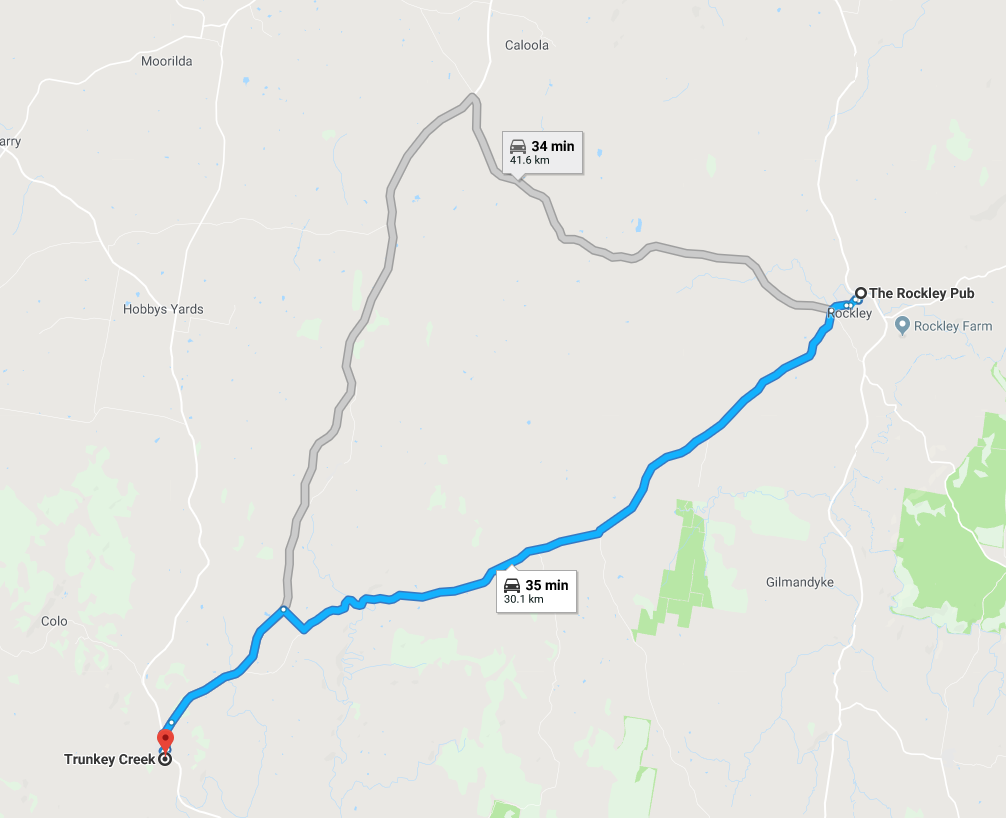 Don't expect too much from accommodation at The Black Stump Hotel. It is an old school pub. It is a little bit tired however from what I could see there are renovations under way so I would assume in a year or so this would be much nicer and much more expensive!
Right now you get a room with bed (very comfy), shared bathroom and in the morning you get up and cook yourself up bacon and eggs. Dinner was good, beer was cold and we got to meet some friendly locals who came in to watch NRL Grand Final at their local.
Day two – forgot to refuel!
We got up early cooked up some bacon and eggs and started to plan our next day. We didn't want to come back to Sydney the same way we came – so we really only had one option. Go south!
I wasn't quite sure how many more kilometres I can do on my tank (I didn't fill up since we left Sydney and my bike smokes anywhere between 5L to 10L per 100km). I really should have gotten some fuel at Oberon – duh! After doing some basic calculations and shaking the tank a little I have decided that I should be OK to get to Crookwell on whatever left fuel I had (approx. 90km away).
It was probably the nicest part of the trip with nice bends, hills, beautiful scenery, fully sealed roads. 
I probably would have enjoyed it more if I wasn't stressing about making it to Crookwell – but now that I think about it; I enjoyed it because I rode at 80-90 km/h to conserve fuel I actually was able to look around a little and observe what's actually around me.
Some beautiful old towns on the way down that I recommend you pull over such as Tuena and Binda (with an old cottage if you keen for a nice get away accommodation)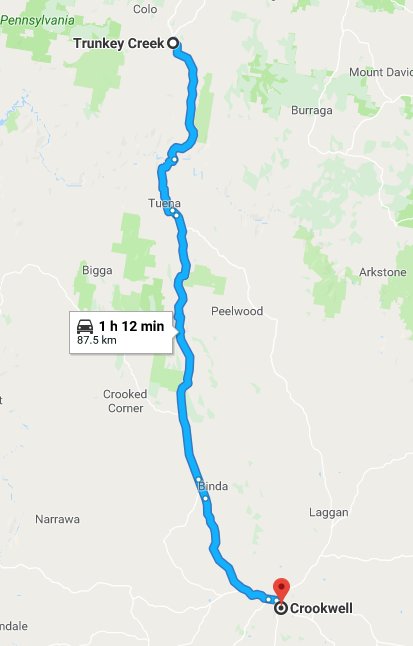 I made it to Crookwell without any issues – got some fuel for the bike and coffee for myself and then we planned our return from the south.
Return home
The quickest way back to Sydney is through Goulburn – however it is mostly highway and not very eventful. Instead we opted in to drive through Wombeyan Caves.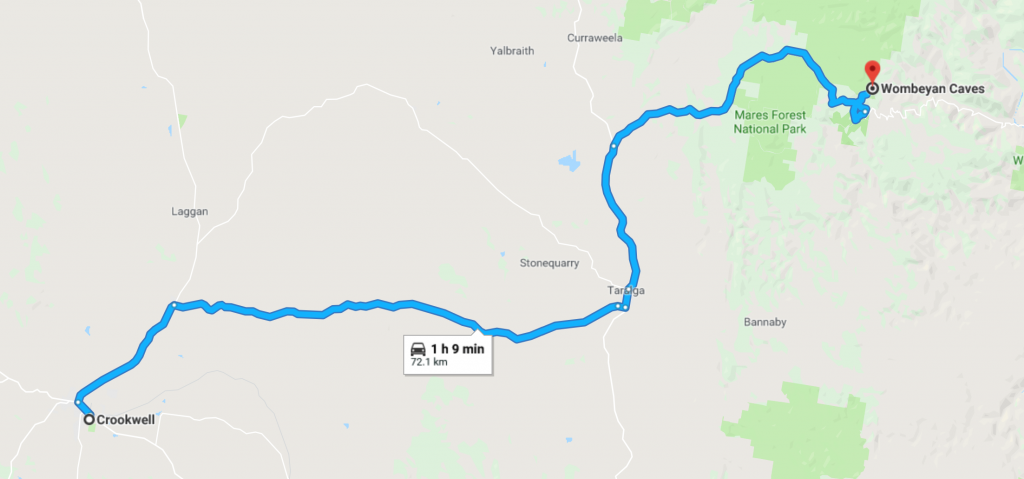 I would NOT recommend this for beginner riders as the road between Taralga and Wombeyan Caves is gravel and not very even. It only gets worse, much worse past the caves to Mittagong.
If you have been riding for a while and would like get some confidence on gravel, uneven road, border line off-road – the result is some breath taking views and lots and lots of dust! I strongly recommend it – it was an amazing experience.
Mittagong is a nice final stop for a meal and refuel before heading off to the city. Rest of the way is pretty boring highway.