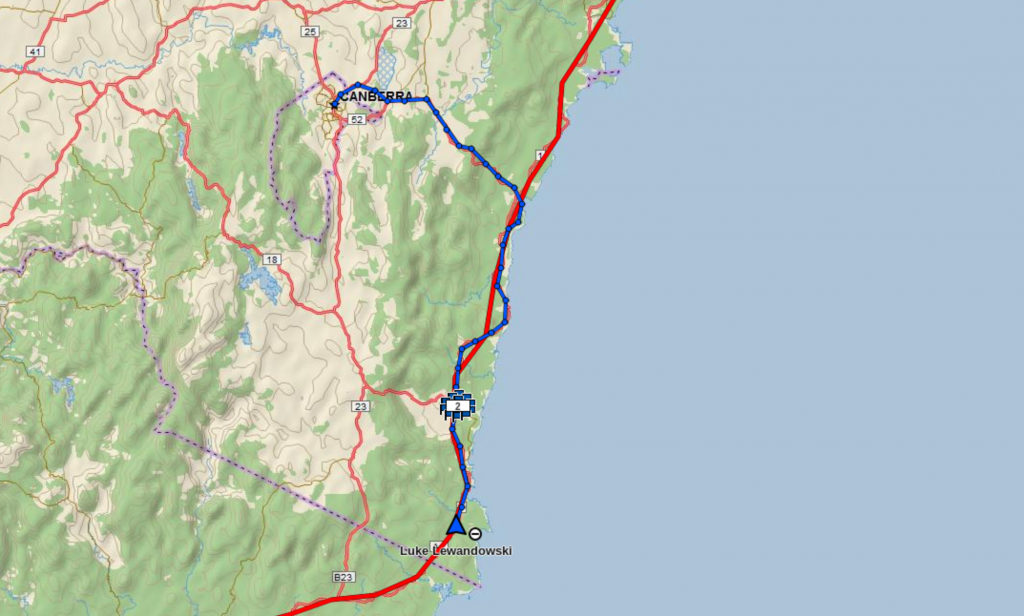 Woke up to a pretty cold day at Canberra – one of those days where forecast seems OK – but then it says that it "feels like 2.5 deg". Somehow couple of digits went missing.
I was contemplating going South East through Cooma to get to Bega as quickly as possible but after few minutes of research It seemed that the road to Batemans Bay seems pretty nice and when am I ever going to be able to do it again?
Glad I did, the road was amazing. A lot of nice corners, some down hill and up hill climbs.
Once I started to get closer the forest was filled with smoke and before I knew it I could see helicopters in the horizon trying to put it down. The whole reason of me going through Canberra was due to the highway closed just north of Batemans Bay.
Luckily the road to and south was open. It remained pretty smoky for quite a while. Once I got to Bega, the air was clean and the views were stunning.
Pulled over to try some famous Bega cheese factory. Very much what you get in the supermarket, the only surprise was the variety of cheese they produce. It is also a nice a spot to pull over, rest up, grab a coffee and the service is great.
At Bega I had to get some fuel – luckily I did as I discovered a small leak out of the left fuel filter. My filters are reusable and you can pull them apart – and it seems that from vibrations etc. one of them decided to get loose. I cleaned it up in the process – re-assembled and it was like new.
I headed to Eden which is known for whales. Saddly I didn't see any but the place was very nice and the views overlooking the Twofold Bay were amazing.
I didn't really feel like riding for much longer so I found a free camping area at Scrubby Creek. Only 4 vans and I – camping in the far corner of the place. Clean with birds keeping you company during the day, then possums during the night.
Overall, a much better day than yesterday!
https://youtu.be/BiU95_g4xRU