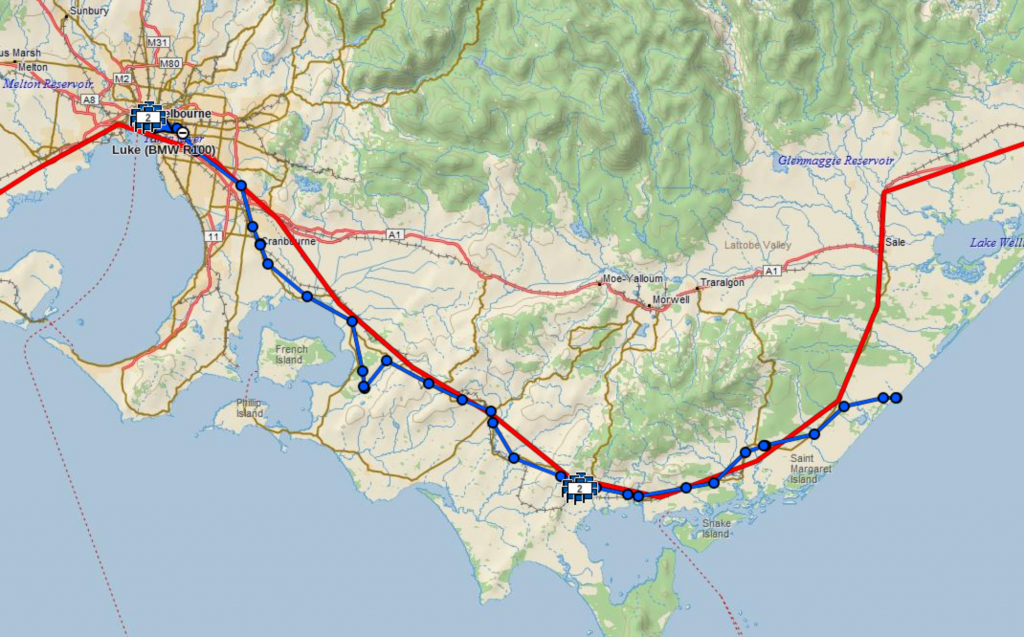 Headed off from 90 mile beach for Melbourne. Tried to get up early in the morning but it was cold and windy – not just that the tent was wet from morning dew.Decided to sleep in a little and wait for the sun to fully raise and dry the tent a little.
The usual routine of collecting all bits and pieces and packing up the tent – can do it now with my eyes closed. Got dressed, fired up the bike to start charging the battery and warm up the engine a little, said good byes to people that made my two cold days very enjoyable and headed off for Melbourne.
It was freezing and started to rain (luckily I departed when I did otherwise I would have to collect a wet tent). Had to pull over few times until I was wearing 4 layers – including my rain suit.
After spending few hours day before on different knots and fishing I decided that today was the day I buy my first fishing rod – not knowing anything about it I stopped at a local fishing shop. Not knowing what I want nor need – I ended up getting el cheapo telescopic rod, few hooks and some extra line. Now I know what it feels like when you walk into a meeting not knowing anything that people are talking to you about – it seems like English – but is it really? I mean who calls a hook – suicidal?
Once I got closer to Melbourne – the weather was much warmer and wind died down quite a bit. So I pealed off all layers to just riding gear.
I was lucky enough to be given a whole house in Richmond (thanks Markus and Bri!) – got there late afternoon. Quick washing load, shower and I was brand new again. In Melbourne traffic – I actually found an issue that never knew I had with engine overheating – with new oil thermometer I was able to see that the oil temperature is going above red line (and engine starting to sound like a diesel truck!). I pulled over and waited until the oil temp. drops down again before continuing.
Overall, productive and a good day. Started off cold – but ended up being a beautiful warm day. Can't wait to discover Melbourne tomorrow.
https://youtu.be/wNnEcbd2Yzw