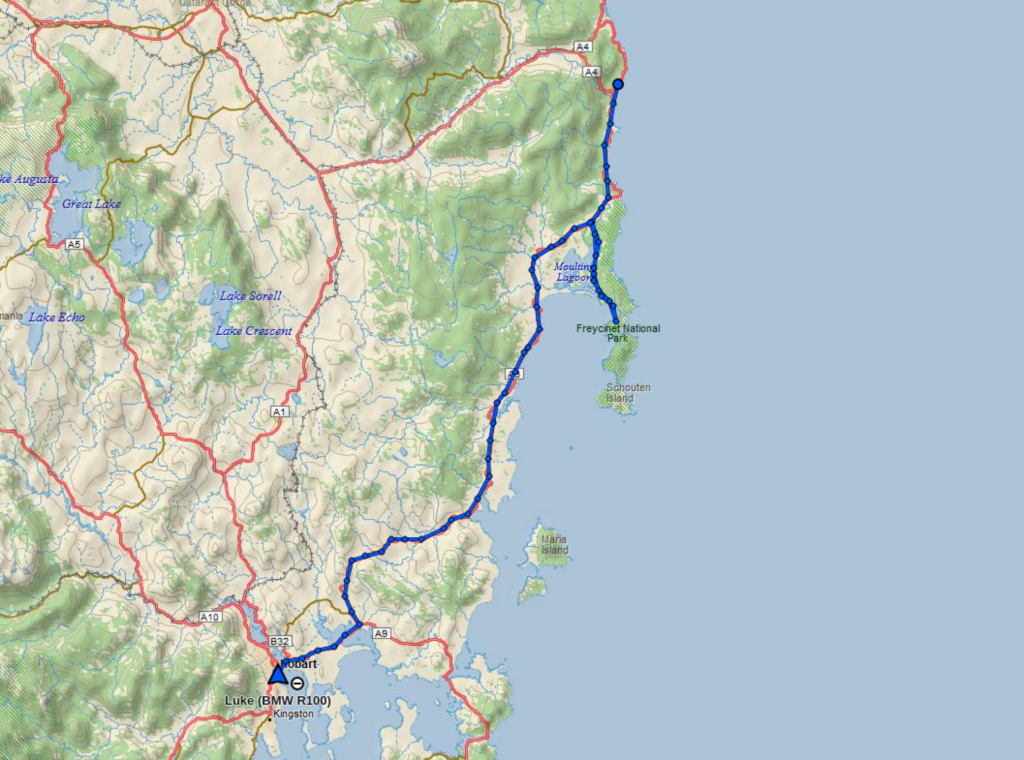 Got up early and decided to try my luck again in the sea this time with a squid. No luck – but progressed on my book which is equally as rewarding.
Plan for today was to get to and see Wineglass Bay. I heard a lot about it and it seemed like a nice hike. (Exercise apart from yesterday has really been very minimal).
Weather was pretty bad in the morning – I just skipped morning showers which was lucky. Meant that I didn't have to dry my tent once I get to Hobart.
No dramas today – just a very nice ride to Wineglass Bay, followed by a very long ride to Hobart.
I bit more than I could chew today. I was already sore and the road today wasn't as easy as just sitting down and going forward. But I pushed on to get to Hobart.
There I had "Boutique Backpackers" waiting for me with apparently amazing memory foam beds.
Pushing on paid off, I got there late afternoon and unpacked etc. was ready to hit the bed at 8pm.
They weren't kidding – the beds were really comfy, place was nice. I was one of the first people to get to the 4 bunk room. Later on however, a guy moved in. I have never smelt BO like this and he moved in on to the bunk below me. Oh boy, it is going to be a "smelly" night. Note to self: never be that guy. Shower and deodorant is a MUST.
Not just that he snored so loud that he would wake himself up. One of the other guys in the room actually yelled at him to STFU.
Needless to say – I didn't get a good night sleep on the most comfortable bed.
Tomorrow I'm going to catch up with some work in the morning then ride to see Port Arthur.
https://youtu.be/Y2FeSa4XaCs