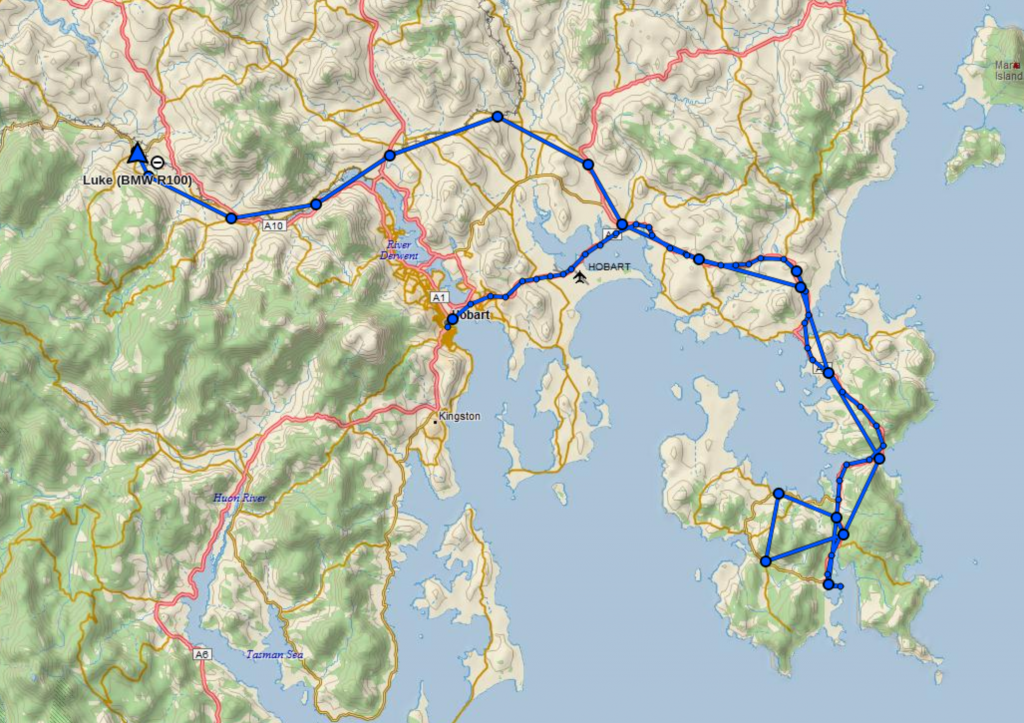 Work is done. Time to explore. Idea of today was to explore Port Arthur and give it time it deserves.
It carries a lot of history for Tasmania and really for Australia. (guns don't kill people etc.)
The ride there was not too eventful and I have done some of it already coming in. Once I got to the peninsula it was much more interesting with some good twisties and not much traffic – aka. fun.
I spent a whole day walking around Port Arthur and I think I could spend another day hanging out there – the issue was that by about 2 o'clock I was so over the convict history (sorry).
One thing that I found particular good is that each person that comes in gets a play card (this is you). Each play card is an individual that has arrived to Port Arthur either as convict or free person and you can either go to the gallery/museum to find out who you are OR like me – spend few hours walking around the whole place trying to find this person (each house, point of interest is normally to do with a particular person).
What I absolutely hated is the amount of tourists that were either ignorant or disrespectful – not being racist or anything majority of them were from Asia. To be honest – any group of people arriving in a bus is just annoying, no matter where you are from (speaking about you dutch people who were not giving a f**k).
I found my person at about 2pm – this is when I got completely over walking.
At 3pm I had a tour booked for escapes. What I hoped for it to be (as it said that there is a lot of walking etc.) is that you actually get assigned a person and you got to plan and execute an escape – what it actually was is a different story. A guy, knowledgeable etc. but it just ended up being a simple walking tour of different places and ideas people tried to escape this place.
I ended in the car park not long before they close down thinking – do I stay here or do I push myself to go as far north as possible to make tomorrow much easier.
I decided to push – which is BTW. completely against my riding rules of don't ride in dusk or dawn (this is where all animals come out and get you!). Do as I say and not as I do and NEVER ride in dusk or dawn, bad things happen.
I wanted to get somewhere in the center of Tasmania so that I can decide in the morning whether I should go west to Queenstown or north through the center.
I ended up in Bushy Park, small private camping ground at around 7:30/8PM – really quite late.
To make things worse it was starting to rain. The owner of the grounds charged me the overnighter, showed me where I can set up and wished me luck!
Literally 5 min after I setup it started to rain.
Mike, the bloke running the place was really helpful. One of those people though that you got to have a thick skin as he will tell you what he thinks.
He told me I was fat (just kidding – I'm slim as, been eating half of what I normally eat now for few days + some water).
I hope rain stops in the morning so that I can pack up my stuff when its dry. (fingers crossed)
https://youtu.be/qNjGW-yiC4k