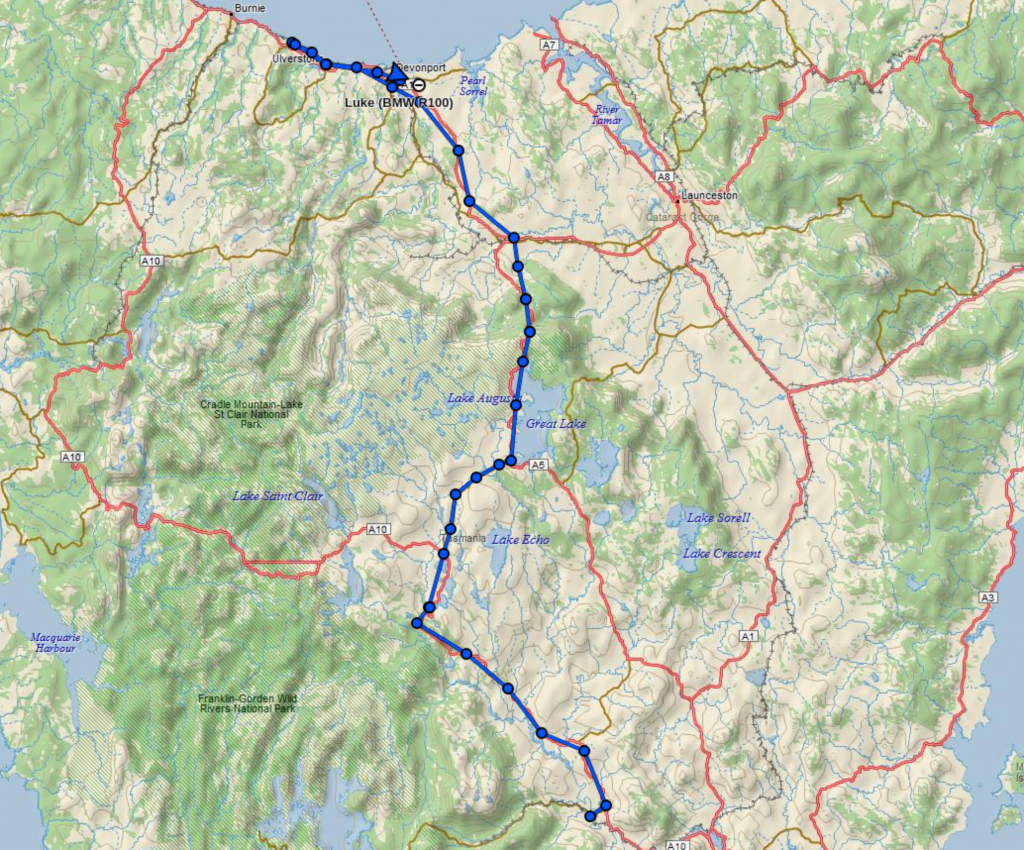 Got up and unfortunately the rain has not stopped. It has turned into showers though which gave me some hope that I might just be able to get my tent together.
I packed up as much as I could, cooked myself some breakfast – I couldn't delay my departure any further though so I decided to bite the bullet, wait for the gap in the clouds quickly wipe and pack up my tent.
Hopefully it does not get moldy over the next couple of days.
I decided today to instead of using GPS to instead look at the map and plan my trip on my own. Noted down all the major roads I got to take or take a turn and off I went.
It was fine for the first few Km. It was still showering and it was pretty cold. The road then became gravel – very loose gravel and it just went on and on.
I went through a bush that was completely burned down. It was quite unreal – so quiet, so dead.
What I didn't realize is that I was riding through the "Alpine area" of Tasmania – at the petrol station the lady told me that I'm lucky as there was still snow a week ago. I felt it – it was really cold. I had all layers on including wet weather gear.
It was well worth it though – very beautiful area of Tasmania. In fact one of my favorites.
I kept going north – it was mostly then the highway – a bit boring but not too bad.
One of the guys that I meet through forums happen to be at the place called Penguin. I had plenty of time before my ferry and it was only 30 km away. Why not – I followed the coast all the way there.
It is quite interesting how in one week I have done, coast, ranges, bush, alpine area – pretty much everything.
Anyway, I got to Penguin – still don't know why the town is called that. I expected lots of penguins on the beach – none were found though. There was a statue by the water but the text wasn't exactly clear as to why.
Anyway, meet the ADV member called Henry (thanks for the beer mate!) we sat down and had a good conversation about his and my travels, our bikes etc.
Seems that Henry is planning a trip himself. I'm sure you will enjoy it!
It was time for me to depart back to the ferry. This time I didn't have a cabin. Instead I opted in for something cheaper – recliner.
It should do the job.
https://youtu.be/6na7crKsVcI