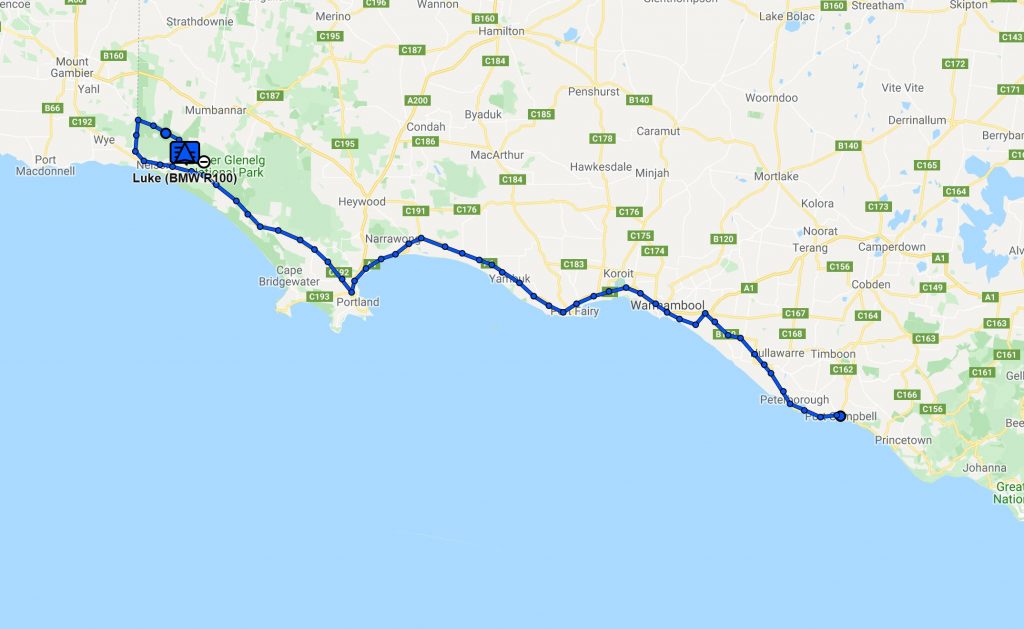 I finally had a good night sleep. No snorers, animals trying to find some food in the camp site etc.
Got up nice and refreshed, quick shower (I'm in heaven). The usual pack up and go.
I found that there is a park right on the border of VIC and SA that seemed quite nice – right by the river.
I really have not enjoyed the Great Ocean Road so far. It was dangerous full of people that should not be on the road (driving or walking around with selfie sticks). Definitely not a good place for motorcyclists – you want good riding and where you can enjoy the view – instead I was just continuously looking out for things out to kill me.
Today was different – or maybe because I left early. Roads were empty and look outs and attractions pretty empty also – maybe people don't bother going down this far. Oh well, worked in my favour.
Some very nice places along the coast – this is probably my second (or third?) favourite area of Australia so far on this trip.
I stopped in Portland to get some extra fishing supplies – I needed something with no expiry date as I don't fish everyday and getting squid has not worked so well for me last time.
Once again I miscalculated how long the road is between the highway and the actual camping site – and once again gravel and sand. Very slow ride but quite enjoyable and I turned into more of a training on off-road'ish riding.
Nevertheless, the last part of the today's journey was very enjoyable. When I got finally to my camp site – it was fantastic.
One other family on the other side of the area – had whole wharf to myself to do some fishing. Hands down one of the best (paid/national park) camp sites I have ever camped on.
Caution though: No reception of any kind. My Garmin InReach did it's job and notified everyone where I was and that I was not contactable. Love it.
https://youtu.be/JTWDZkas89k