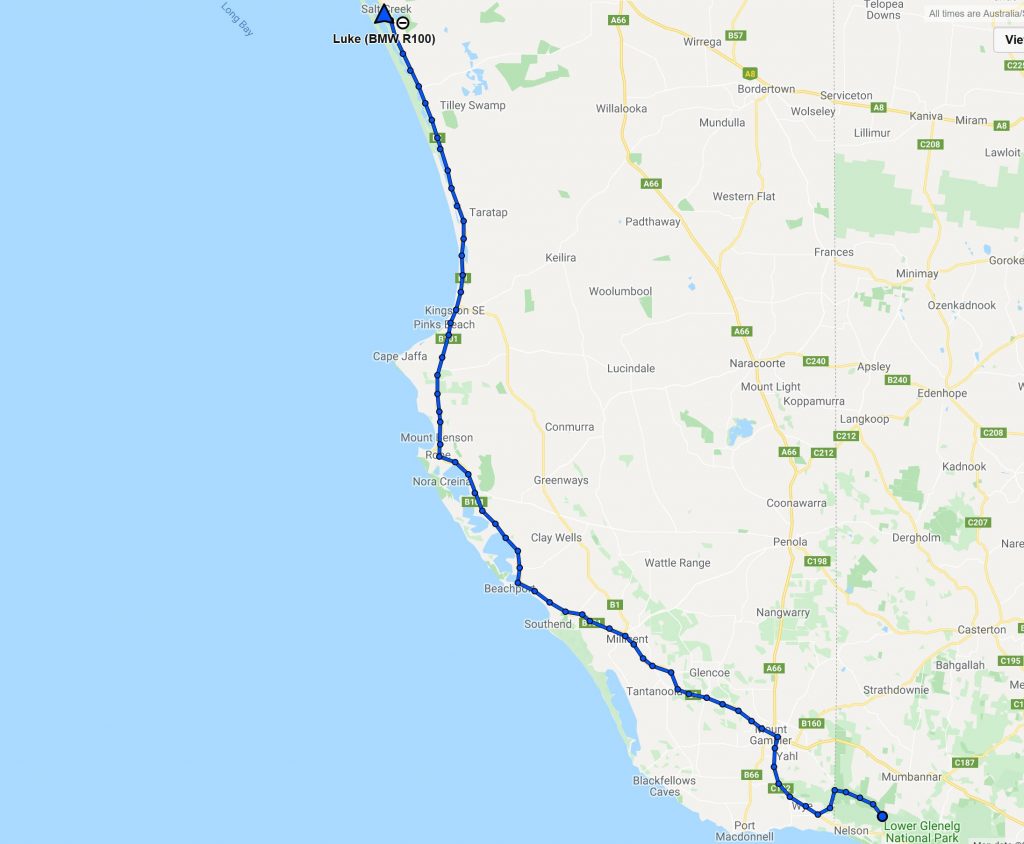 Wow, this place is going to be hard to beat. So close yet so far from everything and everyone. No annoying flies, mosquitoes, noise and people.
I got up in the morning, made myself some coffee, grab a book, fishing rood and I went to enjoy my morning.
It is what they show in TV what the perfect holidays look like.
Half day quickly went by and I was faced with a decision whether I should stay another night or move on. Problem was that you got to book on the website and I had no internet.
I ended up deciding to move on north-west – I saw on the map that long stretch of what it looked like a beach and I thought – wow this is going to be another 90 mile beach experience like I had just few days ago in VIC.
A good friend of mine (thanks Geoff) said to visit Mount Gambier as they have a pretty cool garden called Umpherston Sinkhole. Indeed he was right. It was pretty good place to sit down, relax before heading off.
I didn't yet know where I'm staying so I had to quickly figure something out.
It was also getting quite hot – but then I have ridden on days where you start to get warm and then it gets cold again so didn't think twice of it.
I kept going – I can't say there was much that interested me in between Mount Gambier and my new destination. I pulled over few times to pill off layers – it was getting hot.
I also saw that the bike is running at 120 deg Celsius even when moving at 100-110 km/h – is that good or bad? There seem to be a red dot on 120 – could be bad?
I slowed down then to keep the temperature slightly under the dot. I thought that the temperature issue is only an issue when you are not moving – eg. Melbourne traffic. It has not been an issue before – but then I never had temperature indicator before. It is an aftermarket addition from a month or two ago.
Anyway, I finally got to my destination. I was really exhausted and really upset. Had really short fuse with pretty much everything.
I literally had to take a walk to calm myself down – I don't remember last time I was in such a state. I was ready to be that kid who just throws a tanty at his parents in the middle of a store.
What was worse – the camping ground – all of it, was overran by ants. They were everywhere and they got to everything. I had to literally have a tuna sandwich while continuously moving.
Eating in the tent was not an option either – it was well over 30 deg Celsius.
Another thing has occured to me – I hardly had any drink today. How could I be so stupid and not drink water. I guess I have gotten used to riding mostly in cold weather so far in this trip. What I was experiencing was heat and exhaustion. My body was panicking, I was panicking. I was thirsty, hot I just wanted to run somewhere cold.
I had plenty of water and went for a walk so that I don't get eaten by ants. When I came back the tent was still very hot.
Luckily I had a portable, rechargeable fan (thanks Jess) that I hang on the window of a tent so that it was bringing all the cooler air from the outside in.
I eventually fall asleep – no need for sleeping bag or warm clothes tonight.
https://youtu.be/sqAZvJ0NMQs