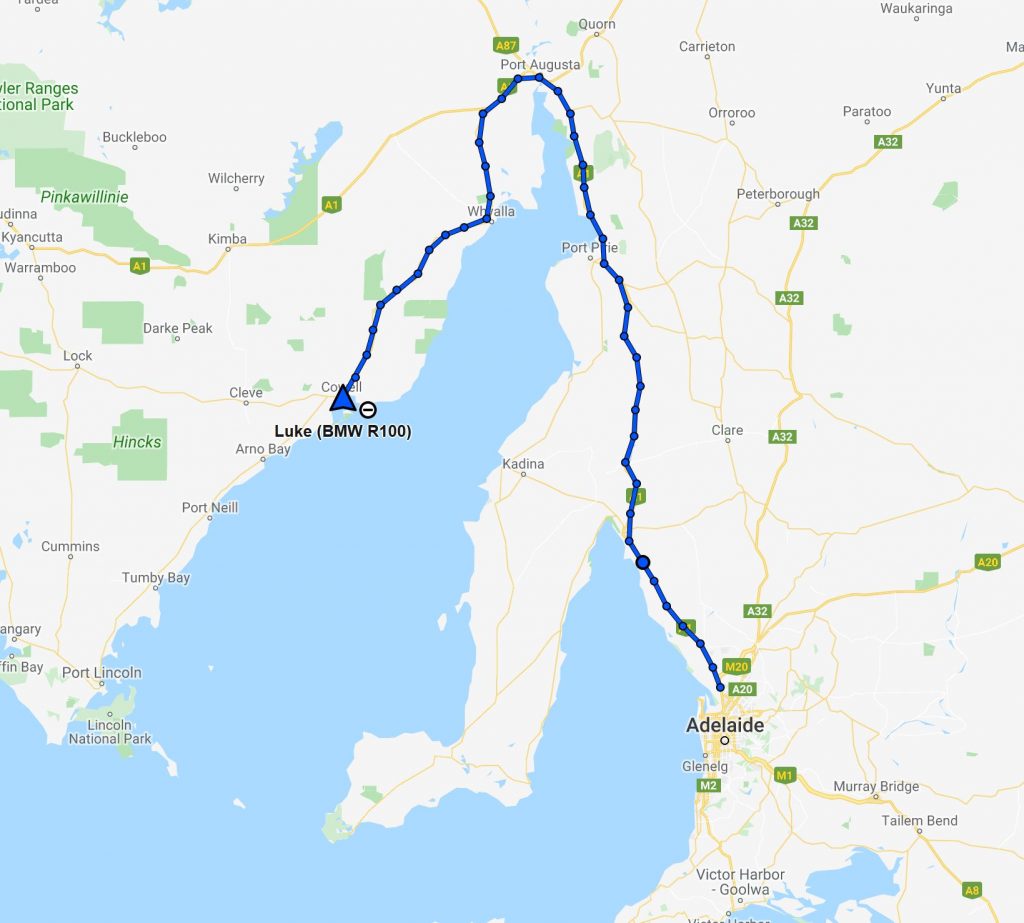 Decisions, decisions, decisions – do I stay in Adelaide with nothing to do but comfortable with aircon or do I suck it up and carry on.
I decided to suck it up and get on with it – part of the experience I thought. I did spend some time thinking how I can tackle the heat better.
Created few rules for myself
80/20 rule – every 20KM, slow down to 80km/h and drink water for a single km.
Ride in the middle of the road – where car tyres are is generally melted and slippery. Not the case in the middle.
Every 100KM – stop at the petrol station, cool down your body and refill your backpack with water.
I was going through nearly 2L of water every 100KM – which is quite a bit. Interestingly I didn't even have to go to toilet all that much which I expected drinking so much water.
I also got up super early – vast majority in the morning was highway with no real danger of animals on the road. I still found a sweeper (car on front that can act as a shield) and followed it.
I wanted to get to Port Augusta and stay there – I have been there before and I knew that there were good pubs I can stay overnight for not much at all.
I followed my own rules and to be honest – it was not that much of a difference between usual riding. I was hydrated, I pulled over often to get cool off and relax and the ride felt fine.
I got to Port Augusta and decided that I can do much more than just that.
I picked my new destination – Cowell. Booked myself into a hotel (pub) while sitting at Port Augusta petrol station.
On the way I stopped at Whalla – which is actually a pretty big town and picked up both – a digital thermometer and another 1L bottle of Oil.
I put thermometer on top of my bag – however once it got to 48 degrees Celsius – the screen went black and it kind of stopped. I threw it into my bag hoping that it will still work. (ouch)
I finally got to Cowell – checked myself in (turns out that the room is not A/C'd). I wrongly assumed in that heat that every room as A/C. Looks like assumption is a mother of all f'ups.
I was curious to see if the thermometer recovers and it did. It showed me the maximum temperature it has recorded as 57 deg Celsius inside the bag.
I was a little worried that if this heat continues that I might have problem with my 2 propane butane cooking canisters. They might just pop inside my backpack!
They didn't – maybe I'm lucky. Turns out that the place I stayed in – Commercial Hotel – is a bit of a craft beer heaven. I had a fish of the day and some amazing craft beer (from Wellington, NZ as it turns out).
I had a good conversation with a couple of guys and a very down to earth bartender that were intrigued by me sitting by myself in a corner reading a book.
We had a good chat about my past and future travels and they gave me some recommendations. I was going to skip Port Lincoln – not the case after my conversation with them.
I stayed as long as I could in the pub (it was A/C'd) then I got finally told to relocate to my room as they closing down.
My room was hotter than outside – but by then I was so exhausted I just collapsed in the little springy single bed.