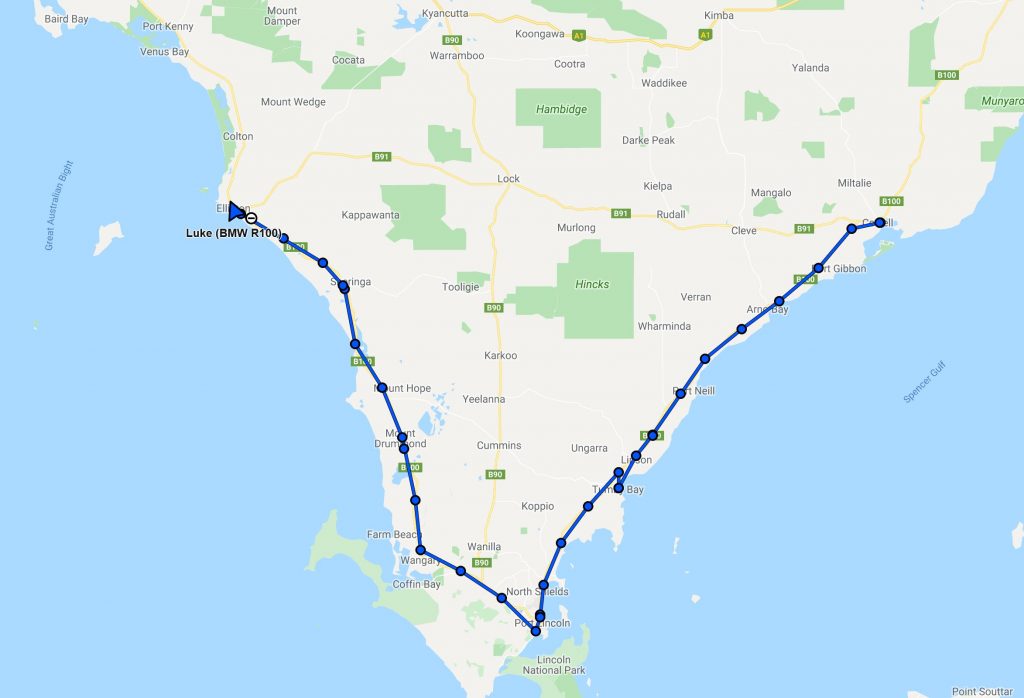 Forecast for today – really windy and sand storms. At least it is a little bit different than last couple of days of frying pan heat.
The usual packing up, shower, quick breakfast and I'm on my way.
I wanted to stop for brunch/lunch at the recommended cafe – L'Anse Tumby Cafe (recommendation from last night).
I spend some time thinking about the road from Port Augusta down to Cowell and really all the way to Post Lincoln and beyond. (opinion alert)
The road around the peninsula is advertised as Seafood Trail – yet you hardly ever see any sea as the road is inland. Compare it to the Ocean Road that's covered in tourists. Hardly any tourists here.
I rode past a lot of heavy industry – big smokey chimneys, lots of utility vehicles etc.
You would think with global warming and a lot of discussions about abnormal weather, some crazy high sky temperatures that there would be some initiatives to actually get something kind of like the Ocean Road built here and push for more tourism so that when eventually we are faced with shutting some of this heavy industry down that people have alternative sources of income etc.
From conversations last night in the pub – you either a fisherman or work in mines/heavy industry here.
Anyway, back to the brunch. I finally got to the L'Anse Tumby Cafe – it was really tough through the dust and wind gusts.
Glad I did, service, owners and the food was absolutely top notch. If this place was in Sydney – I would have to line up for an hour to get a seat and then you would just be a number.
Turns out that the owners lived in Melbourne and just hated the rat race (sounds familiar?) and went traveling and found this place. Very affordable housing right by the water and no competition when it comes to hospitality and tourism (the owner was a chef). Happy for them, they were amazing, topped me up with some icy water after a long conversation over a coffee. I really hope I get to visit them again.
Next stop, Port Lincoln. Axel Stenross Museum, sadly was closed. However, by then the temperature was going back to normal and I just sat down on the bench and relaxed a little bit and read up a little bit of history on Axel and the place. Quite interesting. If I had a 4WD or at least off road tyres I would have gone to Whaler's Way Sanctuary. (noted for another motorcycle)
Decided instead to carry on as not much there apart from amazing food (sadly I only have one stomach).
By then, the temperature has dropped substantially and winds were not as bad which was good. The ride became enjoyable again – yet not eventful.
Good place to stop was Sheringa Roadhouse – very interesting roadhouse with a character that you only get to see in northern SA or NT.
The lady that runs it has few little kittens – make sure you don't step on them! Very cute.
She made me a nice toasted sandwich for a good price. I made my accommodation booking at Elliston at the Elliston Hotel (pub).
When I finally got there I was pleasantly surprised. Fantastic price, my own room with en-suite & A/C for a very good price.
Pub meal for dinner was also pretty good for the price. I was glad the heat was over and I did not even need to use the A/C.