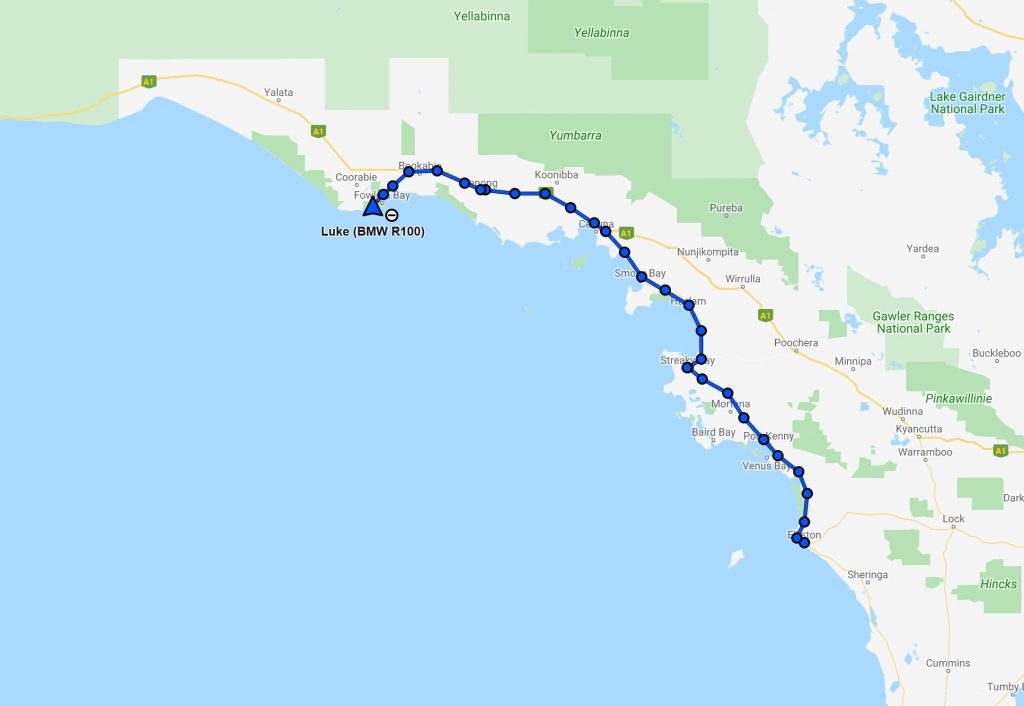 I wanted to take it easy today. I asked for a late checkout, I bummed around. Finally caught up with some emails, phone calls, family and friends.
Decided on my final destination to be Fowlers Bay. A little bit off the beaten trail – but that's where the great stories come from.
Beginning of the ride was pretty uneventful, some good coastal riding, otherwise just the usual.
I stopped at Smoky Bay to get some lunch/coffee – this is the first time ever I have seen what I thought was a danish pastry – to be Vegemite & cheese danish pastry. It was delicious with some good fresh coffee.
I didn't really stop at Ceduna – even though I have heard a lot about it. Probably because it is just a stop before "nothingness" starts. Not that there is much to do there. Just a quiet town.
Penong on the other hand had something going for it. It had a petrol station that was like a modern roadhouse with all the cool stuff and it had all those comet windmills (according the info at the roadhouse – it is the largest in Australia). They don't get much rain hence why so many of them!
I also discovered there the most amazing Beef Jerky I have ever had before – Gavs Gourmet Jerky. The more spicy it is the better it is.
Anyway, moving on, Fowlers Bay. Once again I got caught out by the scale of the map. What seems like it is just around the corner it is not. Ended up on the corrugated gravel road for quite a while before it turned rocky then sandy.
Fowlers Bay once I got there was amazing. I had the whole beach to myself. Sadly, I couldn't go fishing like I wanted due to very shallow bay & rocks. Instead I just went for walk with a rubbish bag and couple of sticks to help me pick up all the rubbish people decided to leave behind.
By the way, if I ever see someone who is traveling with no shovel to dig a hole before they do their business, I will literally slice their tyres and leave them behind. You have been warned! It seemed that once you leave the general "parking/camping" area there was toilet paper everywhere just floating around on the wind. Oh well, kept me busy for couple of hours before it got dark. Picked up a whole bag of rubbish. Such a shame, there should be CCTV installed everywhere to keep people decent – I don't really think so.
Oh and I finished the book I have been reading now for few days – Krol by Stefan Twardoch. Loved it. Great recommendation from Lea.
Dreading coming back to the main road tomorrow as it might rain tonight and it was tough already today.
https://youtu.be/__bkgq3M-jo