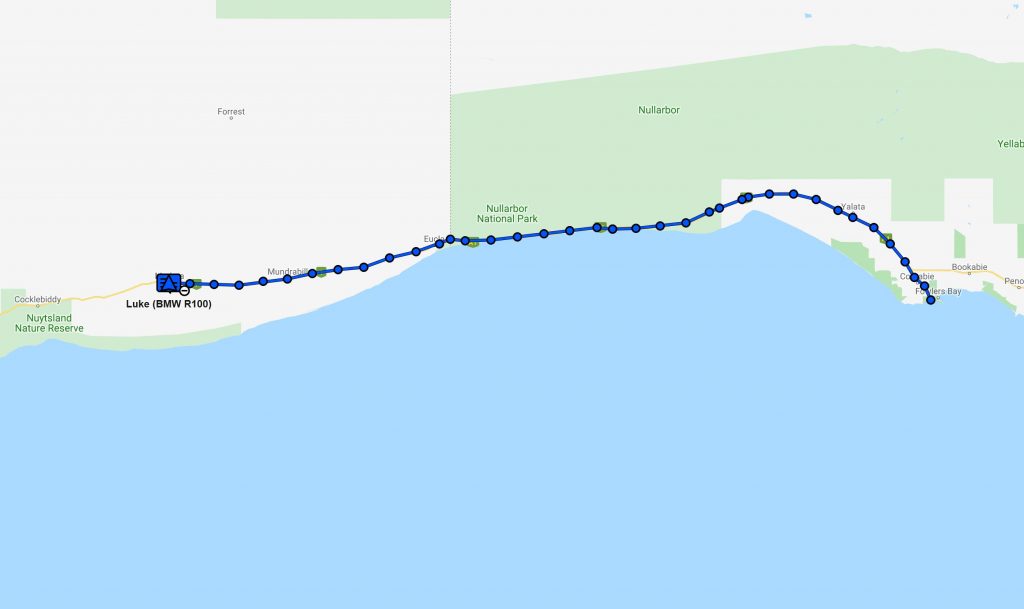 First day in a while with no reception, no people, no power, washing machine, noise. It felt numbing at first and then you get used to it. It is just you and no-one else for KMs whichever way you look. It becomes less scary and more empowering.
It didn't rain last night. Sad looking clouds, some wind and a storm on the horizon far away into the ocean. Nothing above my tent.
It is weird that I'm with Belong which is Telstra network – yet I get no reception where Telstra suppose to be. I guess you get what you pay for.
What I feared wasn't too bad. The road back to the highway was longer than yesterday but less rugged. I went through Coorabie back to the main highway.
Road to the Nullabour roadhouse was pretty uneventful – although I did see one car being pulled over (probably for speeding). Roads are so straight they are just asking for you to put that "pedal to the metal" – yet the speed limit is 110 km/h.
From my last long distance trip I have learned from a wise man that nothing good happens above 100km/h and I tried sticking to it as much as I could. I think I was pretty successful.
As I was riding I bumped into this open space – a concrete slab. I had to pull over anyway as my top box was leaking water (wtf) and I needed to stretch my legs. Turns out that the rugged road broke the thin water bottle and it was pissing water. I cleaned up the mess and I walked around the area to understand a little bit why would there be an empty space like this in the middle of nowhere. I didn't think too much about it then but now that I'm writing this and I'm trying to pin point its location, I'm struggling a little as there is nothing on Google Maps. Especially due to its significance while I read the little signpost there.
It was in Yalata – there used to be roadhouse there and it burned down, which isn't a big thing (sorry) but there was also a whole thing about about the area and people that lived in the area – Anangu people.
From my perspective it is pretty big – the whole area used to belong to aboriginal people (Anangu). The Australian government then allowed UK government to use the area around Maralinga (north of Yalata) as a nuclear test site. All aboriginal people were forcibly shifted to Ooldea – further south then again to Yalata. Thing is that – it is a big area and people that got shifted were only few that military could find. A lot of people around weren't aware that nuclear bombs were being tested – obviously causing major health issues – if not immediate death. Obviously any statistics around death toll or long term health issues aren't available.
All this was in 1950s. Post all the tests, the land wasn't deemed cleaned up from the nuclear waste (after royal commission and a lot of attempts to clean it up until 2014 when it was finally deemed clean.There seem to be still speculations as to if it is really up to scratch and ABC's podcast.
Anyway, moving on! Nullabour – pretty uneventful ride. Stop every roadhouse you see to get fuel. #Just-in-case.
I didn't have reception – the only thing you got is pay phone (haven't used those since I was a child). So you either book your trip in advance or you utilize those with some coins and luck to book things.
I managed to get a camp site at Madura.
Just before getting to Border Village, you will ride past few look-out points – where desert meets the sea – literally. I recommend stopping by as the view is astonishing. Once again, I didn't research anything and just looked at the map and I saw the proximity of the road to the sea and I assumed that I can just stop, eat and use my fishing rood to see if I catch anything.
Not the case. There are cliffs that are meters high. You really need either an adventure bike with sand tyres to get down to the beach or 4WD further down.
The border village was actually very well equipped with fuel, food and some nice people. I meet a pilot there who was flying around Australia (much like what I'm doing on the motorcycle) and a truck driver who has been everywhere. I'm not sure how the pilot ended up in the border village – there must be a clear straight for her to take-off/land.
What I found interesting is that all day I have had cloudy – mild sort of day – perfect for riding. At some point past Border Village – the cloud front ended, it was as if there was another natural border and all of a sudden you felt hot air in your face again. (bugger)
Once I crossed the border, it didn't seem all that much then to get to Madura. It was quite few kilometers but after you have been riding distance it all of a sudden becomes irrelevant. (just make sure you have enough music to sign to!)
At Madura, it kind of seemed like a little desert oasis. Everything was green again, heaps of people, kids running around and importantly – shade. I got a spot for my tent under a tree (not under one of those killer trees). Quickly set it up, pub meal, beers and eventually bed. Ready for the next day.
https://youtu.be/FPxZ2xLTmu0