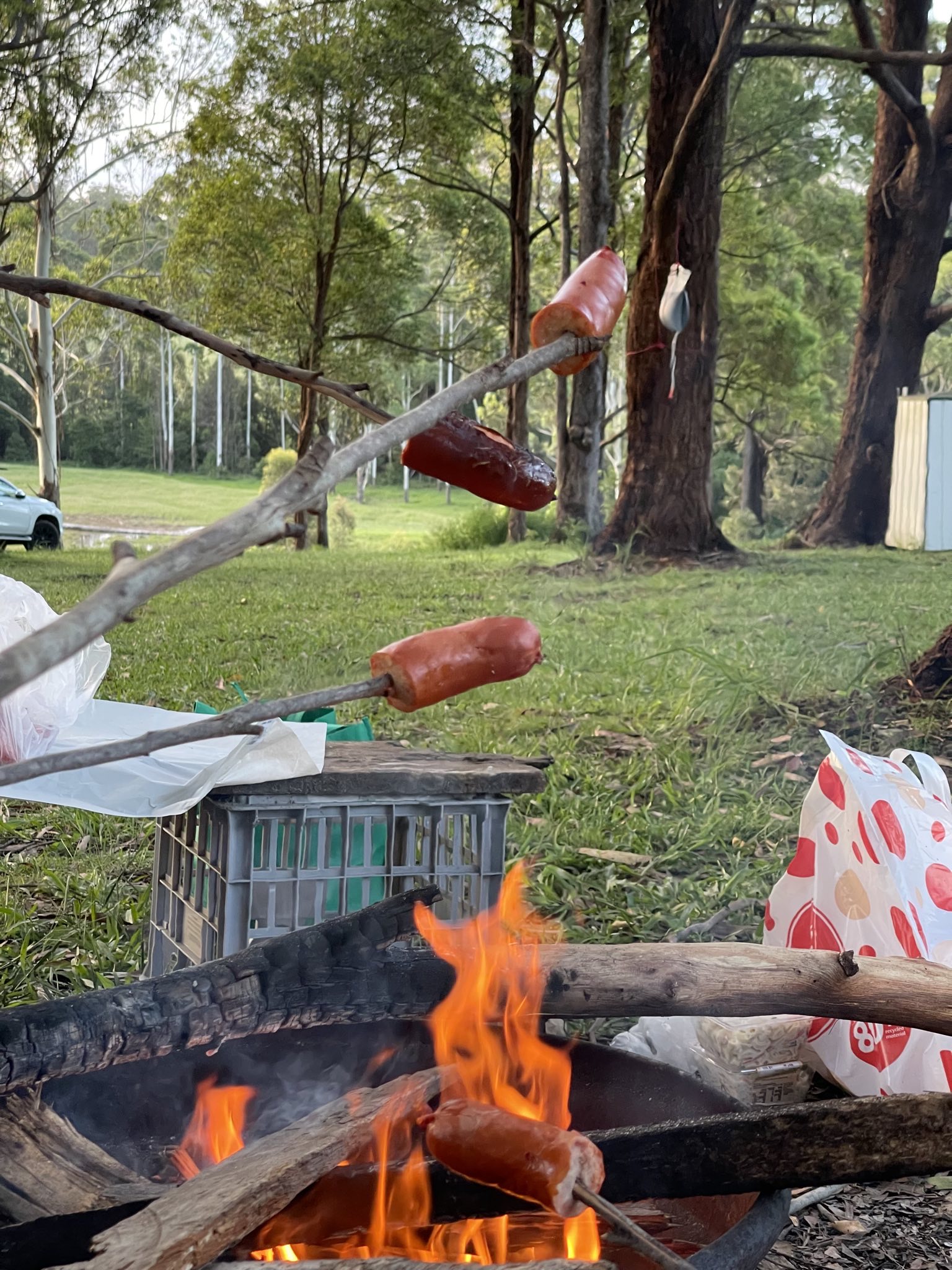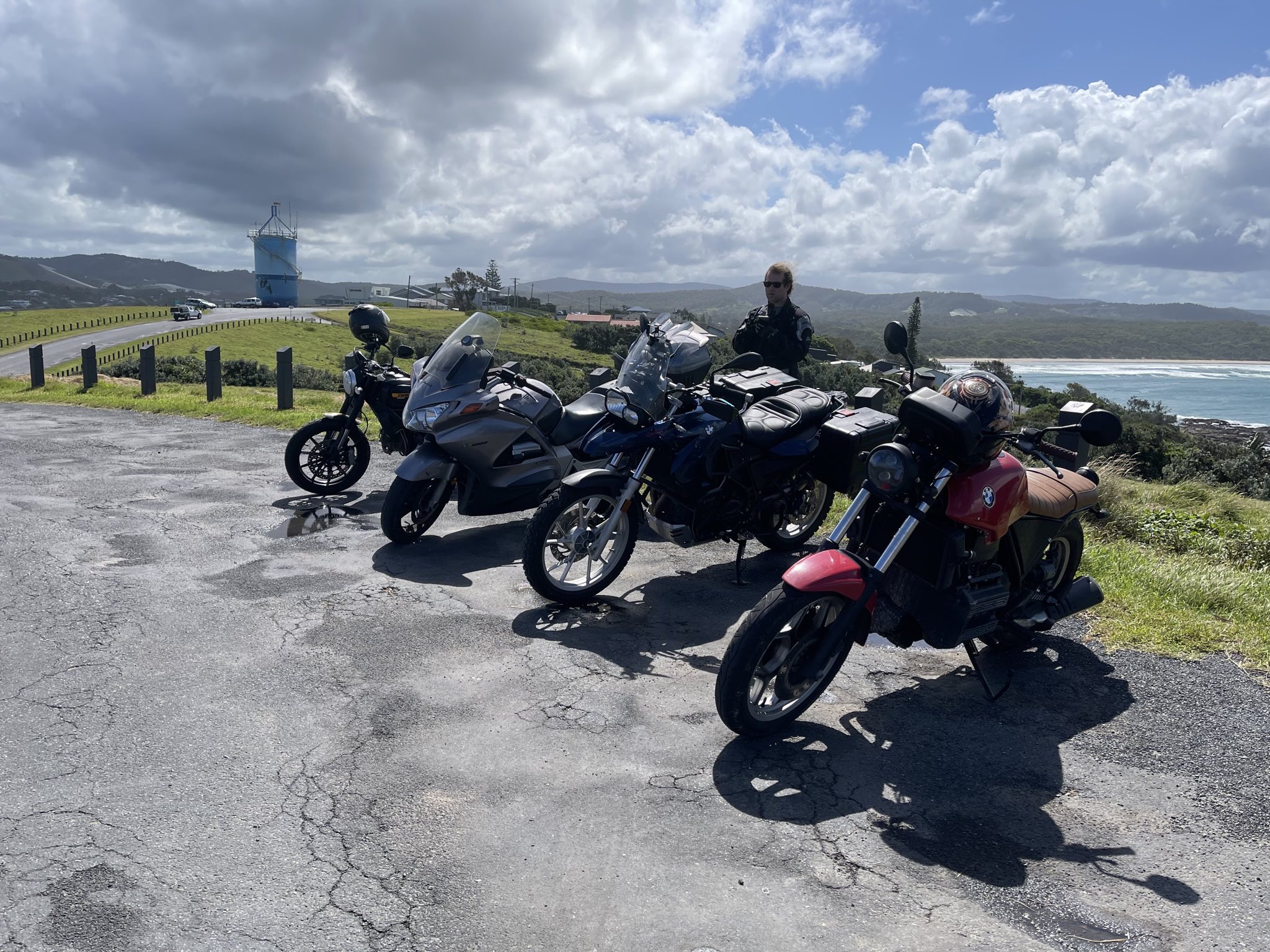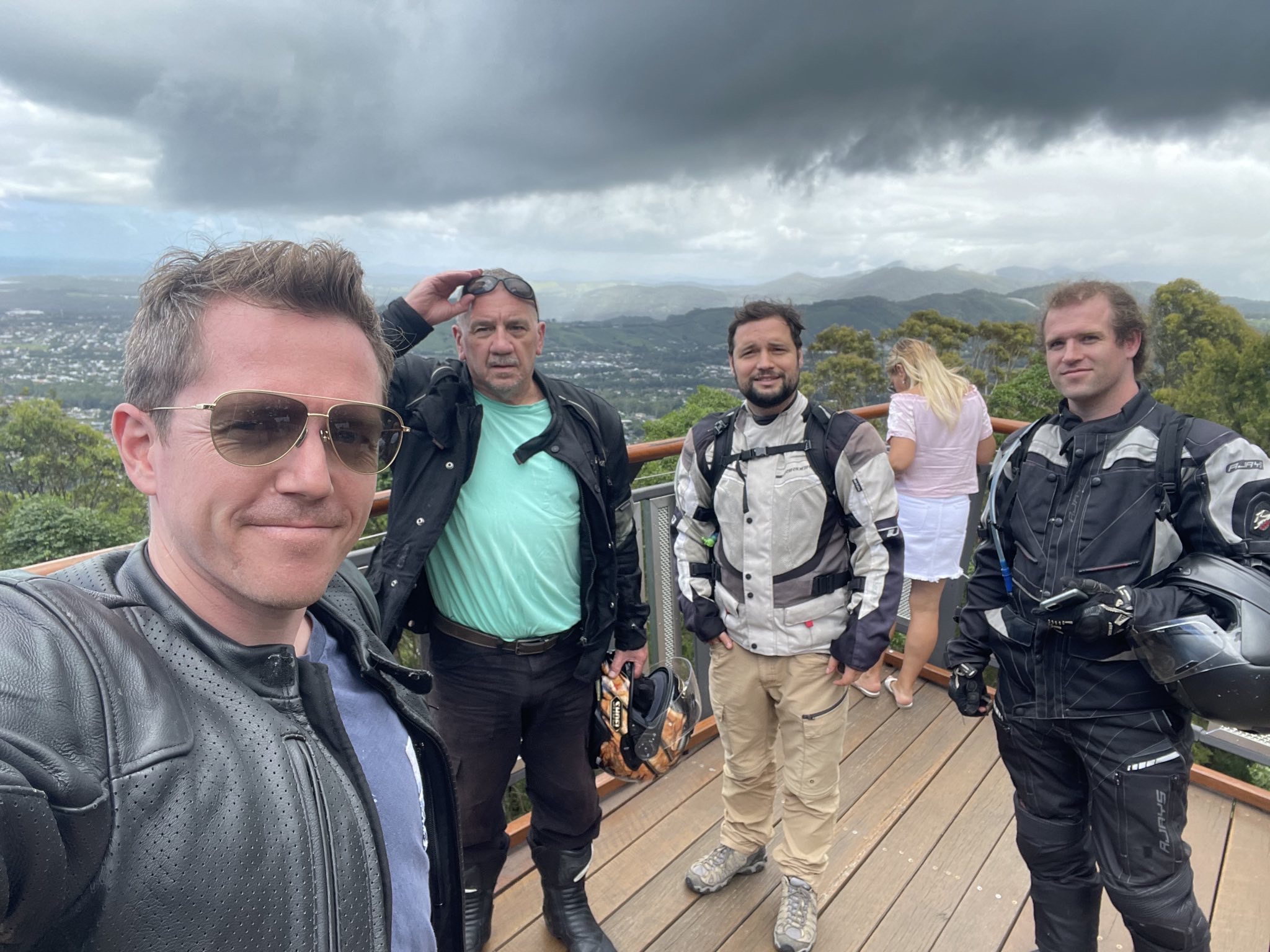 Date of the Trip: 21-24 of January 2022.
Destination: Coffs Harbour
Accommodation: Camping (paid)
Event: Coffs Harbour 2022
The purpose of this trip was to dust off our motorcycles sitting in the garage for the last couple of years due to COVID. Catch up with friends and reconnect with nature. I wanted to give my hammock another shot – if it works, it will save me a lot of space in my motorcycle camping adventures.
We decided to go somewhere in the middle between QLD and NSW states – which was about 600km north – Coffs Harbour.
I haven't really travelled north much as it always seems like a mission to leave Sydney going north – seems that most of the trip is just sitting in the traffic to get out. Not to mention tolls that cost about the same as what it is to fill up the tank.
This ride out of all our rides in the past was not really an adventure ride, there are also hardly any twisties – it was mostly motorway with some scenic routes (if you aren't too sore to venture off the motorway). It was very much an endurance ride – how long can you spend on the bike, battle the elements until you need to pull over.
Coffs Harbour aka. Coffs is a city on the north coast of NSW, Australia. Pop: 72k. Surrounded by amazing beaches, bushland, and hills to the west. A quiet paradise on earth. The weather seems hot and humid – but no surprises there – pack for all conditions.
Day 1
The riding time was about 8 hours plus another 2 for our stops (eat, drink, and refuel). This is the longest I would have ever spent on the motorcycle in a single day. The longest ride I went on was 6 hours, going through Nullarbor Plaines.
It was three of us in Sydney, easy to manage and go with the flow (dead fish) attitude. Our bikes were all very different BMW GS, BMW K (flying brick) and Honda 1300 (couch on wheels), so I was interested to see how we would all go and feel the next day.
The trip itself was not as eventful; we started early to hit the road as quickly as possible to avoid traffic. We were going to ride on the highway, so we didn't have to worry about wildlife which is usually an issue when riding at dusk or dawn. We stopped at various service stations – the most memorable was at Puma Service Station (629 Pacific Hwy, South Kempsey, NSW), where I had my first ever Crocodile Pie at Fredo Pies (https://www.fredopies.com.au/). Also got soaked with heavy rain (meanwhile, there was nothing on the rain radar!).
Towards the end of the ride, while soaked with mad chafing, I was thinking – why didn't I use Vaseline to prevent it in the first place. I use Vaseline already for my lips; otherwise, they crack like crazy—anyway, an idea for next time.
The campgrounds were great – about 20 min away from Coffs, tucked in bushland. A large, slightly sloped area with plenty of trees and open spaces with a water hole at the bottom. We set camp on top of the hill between trees – after first getting some bush education from Sharon (the farm owner) about "the widow makers". Pretty much don't camp directly under a branch or tree that might kill you.
Camp setup was uneventful for the most part – but some had decided to pack a little bit too much, as well as those who never have set up a tent before. Meanwhile, we collected some firewood and started to prepare the campfire. It was a little bit of a mission as it had been raining, so finding some dry wood was not an easy task.
Geffo and Arki put together a DIY gazebo with a spare tarp – we needed somewhere to hang out that was dry and away from the rain.
J-dog got the fire going in no time, and we ended the day when the rain came. No one complained as we all had a full-on day and were waiting for an excuse to crash.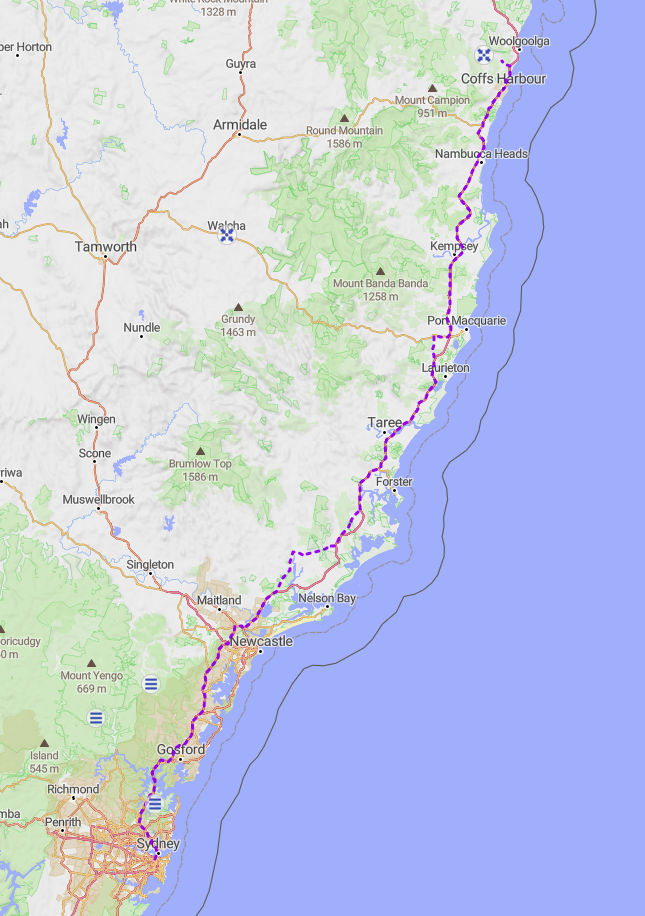 Coffs Harbour Camping & 4WD – Our destination!
Fredo's Pies – 629 Pacific Hwy, South Kempsey, NSW
Day 2
The next day, we all had different ideas on what we want to do – which is fine as we had no prior plans. Geffo has lived in the area for quite few years and decided to show us around.
We grabbed brunch at a local motorcyclist go to cafe – Idle In Café (https://idle-in-cafe.business.site/) at the Nana Glen (yup that's the name of the town), Forest Sky Pier (https://goo.gl/maps/swYtn3jymudUU7Qw8 ) – it is a look out over the whole Coffs and we wrapped up with fuel top up and a quick shop at Kathmandu (I needed insulation for the hammock as even though it was summer and warm – at night I could feel the wind just going through the fabric of both sleeping bag and the hammock).
We then went to Woolgoolga Headland and a cheeky beer at Seaview Tavern (very ironic as there were no views – instead you had lots of TVs with horse and dog racing with people gambling money that could probably be better spent).
On our way back we stopped at the supermarket to get some groceries – something simple we thought. Ended up with salads, sausages, condiments and some fruit and jerky for snacks – food for the campfire.
The brick (BMW K75) was starting to develop an issue where the engine would just cut off. We checked all fuses, connectors, fluids etc. There were no leaks and no obvious problems that could cause intermittent engine to cut off. Ended up just topping up cooling fluid as it was low. We did find that the rear indicator has fallen apart, and the orange transparent piece of plastic got lost somewhere – leaving the bulb just hanging on the wires. Quick fix with a tape did the job.
Arki decided to go for a swim in the watering hole – luckily, he didn't end up with a body full of leeches. Everyone else opted in for a solar shower – a big luxury.
The day ended with a good old chinwag about politics, religion and pretty much every other subject that makes you uncomfortable or you generally don't talk about – funny what beer does huh?
Day 3
On the second day, I did not want to go anywhere far – just stay in the camp, relax, and learn some knots – especially after struggling with my hammock the first day. A friend of mine – J-dog came up with an interesting knot, that allowed to tie something down (while tensing the rope) and allow for further adjustment afterwards and quick release. We called it a J-dog Knot (I might do a video of it as we really couldn't find it done before – it is like a flavour of adjustable grip hitch. We then adjusted all my hammock lines to J-dog knot to make it for a much easier setup and teardown. Meanwhile, Arki went on a mission to find something better than a watering hole – a beach.
After, we went back to the bush to find some dry firewood so that it has some time to dry in our makeshift gazebo. We all meet later at the Moonee Beach Hotel for dinner and a beer.
The brick's issues were more frequent, still with no real solution.
By the time we got back to the campsite, the wood was dry, and we got the fire going to sit down, have some drinks and continue our conversations.
Day 4
Unlike the first day – we couldn't get up early and just hit the road. We had tents to dry and takedown. We had rain the night before, so things weren't exactly dry.
By the time we packed up, it was about 10 AM. We went to a café at Moonee Beach to have our bacon & eggs topped up some black coffee; then we discussed what we could do with the brick. We have finally isolated the issue to be a loose kill switch that would occasionally cut off the power to the engine. Geffo wanted to get it fixed before we hit the road as there isn't much between towns – no shops or help if the issue becomes completely unbearable.
We ended up at Super Cheap Auto in Coffs at around 11 AM – in the carpark, midday summer sun. We got an electrical cleaner and a set of precision screwdrivers to pull the proper handlebar controls apart.
The kill switch of BMW K75 is mounted via one retaining circlip, which was easy to remove. The button was heavily used in the past (bike is an ex-police bike with billions of KMs, painted red to make it go faster), so the contacts were just very worn and loose. We managed to find a piece of copper wire lying around the carpark, which I used to hardwire the switch, stopping any intermittent issues in hopes it would get us back to Sydney where I could find a permanent solution.
By the time we hit the road, it was just after midday. We had the same route to cover as on the way up – 10 hours total.
The trip back was long – we knew that we didn't have time to venture anywhere to we just stayed on the highway and stopped only to refuel.
I have attempted to go one scenic drive – however, I missed the off-ramp and ended up carrying on the highway. I didn't realize that GPS was still trying to get me back to the town along the scenic route. We lost around 30 min because we ended up going the wrong way.
We stopped for dinner at Plough Inn Hotel in Bulahdelah – just a cheap and cheerful pub meal to keep us going. It was nearly empty with a couple of loud locals hanging out at the front of the pub. We grabbed seats at the back – overlooking the river. It was an excellent way to end the trip.
None of the bikes – The Brick included caused any issues, so we just kept pushing forward. The weather was perfect – overcast, not too hot. Few small showers, but they were more refreshing than annoying.
I walked through the door to my apartment at around 10 PM with all my luggage. After a quick shower, I don't even remember falling asleep.
Learnings
Earplugs are a must on long trips.
Summer can be cold too.
Tape and extra paracord/rope were super useful.
Tarp is super versatile – always good to have (I now have 2 that I take on trips)
The faster you go the more tired you get.
Try Vaseline to stop any chafing.
Buy a windproof sleeping bag.
Gloves that don't work with a screen are super annoying.